Photo Analogies magazine
Photo analogies is a yearly magazine dedicated to analog / film photography. Photo Analogies is 100% free of advertising and completely bilingual (French / English). We are aiming at quality, quality of the offset print and paper and of course quality of the content with ambitious projects.

Photo Analogies is based on special features,  in the second issue, we present some intimate work about the unsettling arrival of babies in the life of photographers; a conceptual and very well researched work on an architectural oddity in France, la Grande Motte, shot in large format by Arnaud Thurel; some photoreportage; in Syria with a documentary about Alep by Chris Huby; in Burma with an interview of Edouard Elias and in Japan with a document about the aftermath of the Fukushima catastrophy by David Moxey.

With this second issue we extended the content of the magazine with more documentary projects, more international content (Syria, Japan, Burma, …) and gave larger space to photographs.

Photo Analogies is produced, edited and distributed by BOP collective.  We publish both the work of our members, collaborations with other artists, writers, urbanologist, … as well as featured guests. We wish this magazine to be a platform for film photography, either for well known photographers or emerging talents. For instance, in the second issue, we interviewed Edouard Elias who shared with us his vision about film photography as well as exclusive photos taken in Burma.

We produce the magazine by ourselves, using open source software, only the offset printing is subcontracted to professionals.

follow us on Photo Analogies Magazine page on facebook

Photo Analogies est une revue annuelle dédiée à la photographie argentique. Bilingue français – anglais, elle contient des sujets que nous voulons cohérents et ambitieux sans aucune publicité et est imprimée avec une exigence de qualité !

Photo Analogies contient principalement des dossiers spéciaux, par exemple pour le numéro deux, des travaux assez intimes sur l'apparition bouleversante des nouveau-nés dans la vie de photographes; du photoreportage en Syrie, en Birmanie, à Fukushima, mais également un travail conceptuel à la chambre, extrêmement documenté, sur la ville-concept de la Grande Motte. Sans compter les rubriques devenues habituelles présentant des travaux en cours, des expositions reproduites, …

Avec la publication du numéro deux,  nous avons pu donner à cette revue plus de contenu, des reportages plus internationaux (reportages sur la Birmanie, la Syrie, le Japon de l'après Fukushima), sans parler d'une place plus importante donnée aux photos elles-mêmes.

Photo Analogies est une revue éditée, produite et distribuée par le collectif BOP. Dans cette revue, nous publions donc les travaux de nos membres, des collaborations avec d'autres domaines (écrivains, urbanistes…) ainsi que des travaux de photographes invités. Nous souhaitons que Photo Analogies soit une plate-forme pour publier des travaux argentiques de photographe reconnus mais également faire connaître les travaux de photographes qui méritent d'être découverts. Par exemple dans ce numéro 2, nous publions une interview du photographe Edouard Elias accompagnées de photos exclusives d'un reportage en Birmanie.

Nous faisons tout nous même en utilisant des logiciels libre, sauf l'impression qui est réalisée par des professionnels.

Issue #1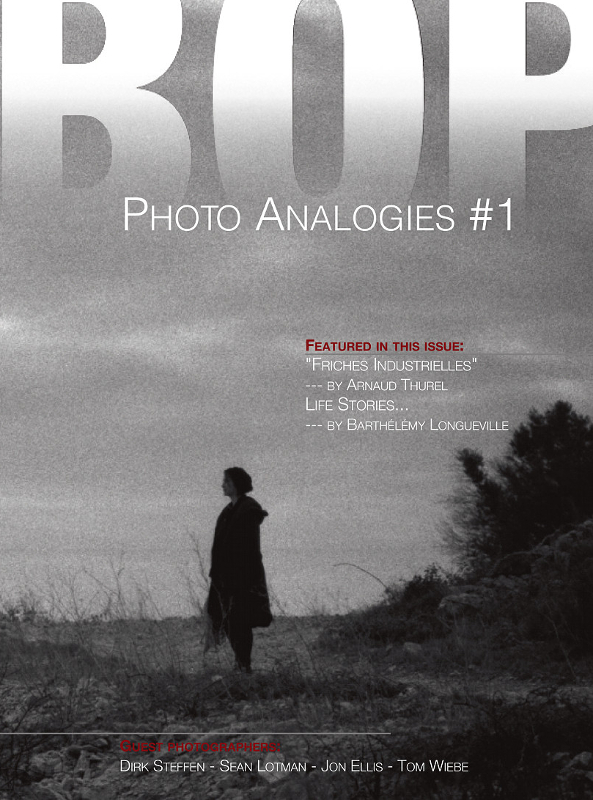 €7.00Add to cart

   See options for delivery
Issue #2 [new !]
€7.00Add to cart

   See options for delivery
Place an order / acheter
or use one of the alternative method bellow :

by email : photo_analogies@bop-photolab.org

by mail / par courrier (old school):
Write to BOP, 37 lot. champ du Bourg, 38570 Goncelin, FRANCE with you check and address for delivery

Bookstores / Librairies (France + Belgium)
– Librairie Le Square, 2 Place du Docteur Léon Martin, 38000 Grenoble – (Website)
– Librairie Decitre Grenoble, 9-11 Grande Rue, 38000 Grenoble –  (Website)
– Librairie du Grésivaudan, Centre Hermès, Rue des Sources, 38920 Crolles – (Website)
– Librairie O'merveilles, 5 Rue Bayard, Grenoble – 04 76 24 77 82 (Website)
– Studio Baxton, 29 Place de la Vieille Halle aux Blés, Bruxelles – +32 2 513 22 24 (Website)
– Hors Format, the photography bookshop – Chaussée d'Alsembergsesteenweg, 142, 1060 Bruxelles – +32 2 534 33 54 (Website)

Bookstores / Librairies (Canada)
– Beau Photography, 1520 W 6th Avenue, Vancouver BC (Website)
– The Lab Vancouveri, 295 E 2nd Avenue, Vancouver BC (Website)

Distribution points (France / China)
– We have other distribution points in Paris / Shanghai / Beijing, contact us for details