Photo Analogies Magazine, Issue #1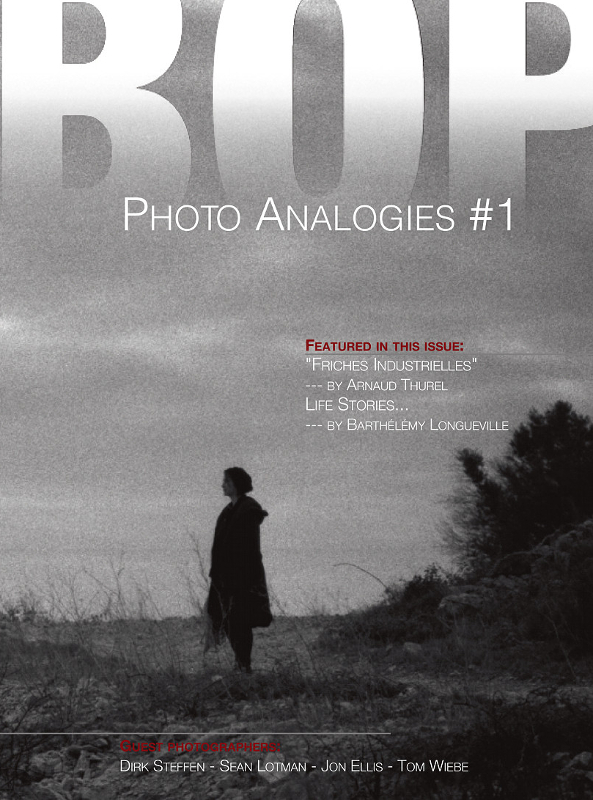 €7.00Add to cart




See options for delivery
We ship worldwide

Check-out our e-shop !


This first issue of 56 pages contains:

BOP features
— «_Lost Place_» from Arnaud Thurel on industrial wasteland (including collaborations with short story writer Nicolas Lefebvre and sociologist Yannick Vigouroux)
— «_Life Stories_» – by Barthélémy Longueville, series of portrait with stories

BOP exhibitions
— «_Communication_» from Arnaud Rivière based on the exhibition at the Copenhagen Photo Festival in 2011,
— a picture explained by Jean-François Boujut extracted from his work on the old Tencin oil-mill…

Work in progress
— from Arnaud De Grave, Barthélémy Longueville and Sébastien Hentz…Some BOP archives

Guest Photography
— from: Dirk Steffen, Sean Lotman, Jon Ellis and Tom Wiebe.

The magazine presents what we hope is interesting and inspiring photography and texts in English, it includes a insert with French translations. It has been professionally printed on high quality paper. BOP Photo Analogies is available in selected bookstores in France (Paris and Grenoble), Canada (Vancouver) and China (Shanghai), a list of places will be updated here. It can of course also be bought online and be shipped anywhere else in the world…

Ce premier numéro de 56 pages contient:

Dossier BOP
— «_Lost Place_» de Arnaud Thurel sur les friches industrielles (dont une collaboration avec l'auteur de nouvelles Nicolas Lefebvre et le sociologue Yannick Vigouroux)
— «_Life Stories_» – de Barthélémy Longueville, une série de portraits accompagné des récits


Exposition BOP
— «_Communication_» de Arnaud Rivière, extrait de l'exposition au Copenhagen Photo Festival en 2011,
— une photo expliquée par Jean-François Boujut extraite de son travail sur le moulin Tencin…

Work in progress
— from Arnaud De Grave, Barthélémy Longueville et Sébastien Hentz…

Photographie invitée
— Dirk Steffen, Sean Lotman, Jon Ellis et Tom Wiebe.

Cette revue ce que nous espérons être une source d'inspiration contient des textes en anglais et français ainsi que leur traductions. Elle a été imprimée en off-set sur un papier de qualité. Photo Analogies est disponible en librairie et via notre e-shop. Nous livrons dans le monde entier.

About Photo Analogies
Photo analogies is a magazine dedicated to analog photography. This a yearly publication featuring photographic essays, stories and series of selected photographers, either members of the bop collective or guests. We also encourage artistic collaborations with writers.

First issue was released early 2013 and second at the end of 2014. [ Read more ]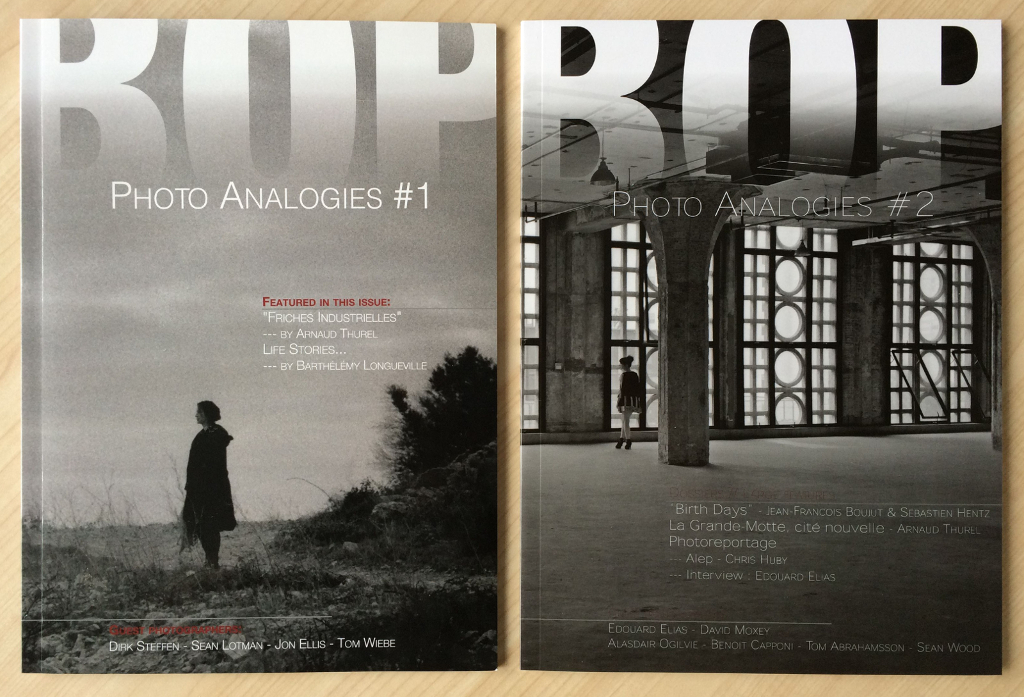 How to buy Photo Analogies ?
or use one of the alternative method bellow :

by email : photo_analogies@bop-photolab.org

by mail (old school):
Write to BOP, 37 lot. champ du Bourg, 38570 Goncelin, FRANCE with you check and address for delivery

Bookstores / Librairies (France + Belgium)
– Librairie Le Square, 2 Place du Docteur Léon Martin, 38000 Grenoble – (Website)
– Librairie Decitre Grenoble, 9-11 Grande Rue, 38000 Grenoble –  (Website)
– Librairie du Grésivaudan, Centre Hermès, Rue des Sources, 38920 Crolles – (Website)
– Librairie O'merveilles, 5 Rue Bayard, Grenoble – 04 76 24 77 82 (Website)
– Studio Baxton, 29 Place de la Vieille Halle aux Blés, Bruxelles – +32 2 513 22 24 (Website)
– Hors Format, the photography bookshop – Chaussée d'Alsembergsesteenweg, 142, 1060 Bruxelles – +32 2 534 33 54 (Website)

Bookstores / Librairies (Canada)
– Beau Photography, 1520 W 6th Avenue, Vancouver BC (Website)
– The Lab Vancouveri, 295 E 2nd Avenue, Vancouver BC (Website)

Distribution points (France / China)
– We have other distribution points in Paris / Shanghai / Beijing, contact us for details
---
Example of content: