Photo Analogies Magazine, Issue #3
Photo Analogies #3 is finally out, this 156 pages of high quality photo prints and stories is for sale and we deliver worldwide !

Film photography, more than ever, has its place in all fields of photography, especially photo-journalism as clearly exposed within the central part of this issue with BOP members Edouard Elias and Chris Huby and our interview of the creator of the agency Le Pictorium.
We have lost a lot of film types and chemicals. But for instance, at BOP, it made us discover Caffenol and pushed us towards different framing ratios (medium and large formats, panoramic…) and some of us even built their own camera. And it can be yours… Also a continued adherence to our ethics and love for "bricolage".
In this third issue, we are proud to have amazing guest photographers, they allowed us to use their names and recognition to bring visibility to others. Pierrot, Rijasolo, Thomas, Bernard, Christian, Edouard: thank you !

BOP features
Madagascar – La grande île
— Ethnophotography of environmental sciences –  Arnaud De Grave w/ the AlaReLa project
— Madagascar ways…" – Chris Huby
— Portfolio – Pierrot Men
— Portfolio – Rijasolo
Timeline – Arnaud De Grave & collaborators
"Beijing Lu" – Barthélémy Longueville

Photoreportage
— Gaza – Chris Huby
— S.O.S. Méditerranée – Edouard Elias
— The mill in Pinsot, walnuts from the Grésivaudan – Arnaud Thurel, Jean-François Boujut, Jon Ellis

Collaboration / Tech
— "Caffenol" – Thomas Lehne & BOP
— Open Pinhole – Jean-François Boujut

Interviews
— Le Pictorium Agency – Christian Sauvan-Magnet
— Bernard Plossu in Scotland (2013)

Archives
— Arnaud Rivière explains one photography
— Where do we go? What do we see? – Arnaud Thurel

Guest photographers' one shots
— Denis Uzdyaev
— Edouard Beau
— Benjamin Larderet
— Brett Richardson

Photo Analogies #3 est enfin disponible, ce troisème numéro de 156 pages est disponible à la vente et en livraison partout dans le monde !

Plus que jamais, la photographie analogique a sa place dans tous les champs photographiques. En particuler celui du photojournalisme qui est au coeur de ce numéro avec les travaux des membres BOP Edouard Elias et Chris Huby et une interview du fondateur de l'agence Le Pictorium.

De nombreux films et chimies de laboratoire ont disparus, cela nous a poussé à explorer des alternatives: le Cafénol et différents formats (moyen format, grand format, panoramique…)! L'un d'entre nous a même construit son propre appareil photo et partage les plans librement… Nous restons fidèles à notre éthique photographique et à la passion du bricolage.

Enfin, dans ce troisième numéro, nous sommes très fier d'avoir réunit des invités dont la renommée donne visibilité aux autres photographes. Pierrot, Rijasolo, Thomas, Bernard, Christian, Edouard: Merci à vous !

Dossiers BOP
Madagascar – La grande île
— Ethnophotographie des sciences environnementales – Arnaud De Grave avec le projet AlaReLa
— "Madagascar ways…" – Chris Huby
— Portfolio – Pierrot Men
— Portfolio – Rijasolo
Timeline – Arnaud De Grave & collaborateurs
"Beijing Lu" – Barthélémy Longueville

Photoreportage
— Gaza – Chris Huby
— S.O.S. Méditerranée – Edouard Elias
— Le moulin de Pinsot, noix du Grésivaudan – Arnaud Thurel, Jean-François Boujut, Jon Ellis

Collaboration / Tech
— "Caffenol" – Thomas Lehne & BOP
— Sténopé libre – Jean-François Boujut

Interviews
— Le Pictorium Agency – Christian Sauvan-Magnet
— En Ecosse (2013) Bernard Plossu

Archives
— Arnaud Rivière explique une photographie
— Where do we go? What do we see? – Arnaud Thurel

Photographie invitée
— Denis Uzdyaev
— Edouard Beau
— Benjamin Larderet
— Brett Richardson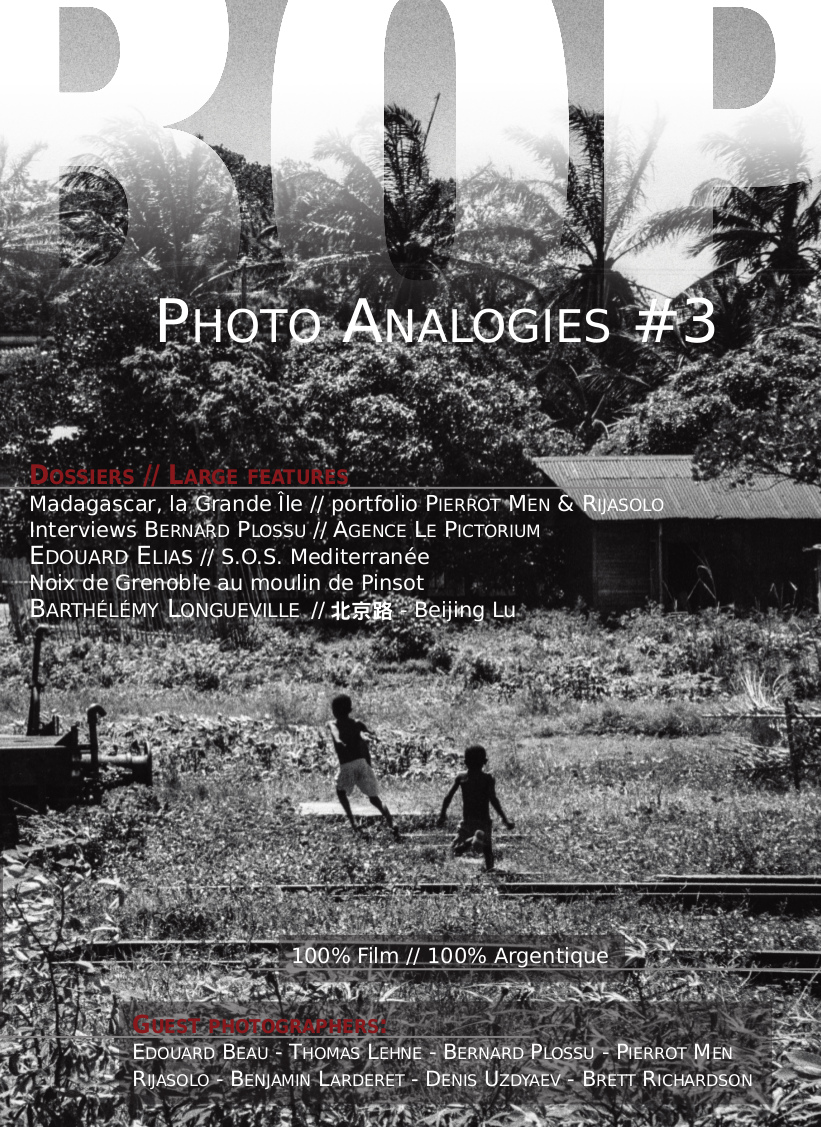 €10.00Add to cart




See options for delivery
We ship worldwide

Check-out our e-shop !



---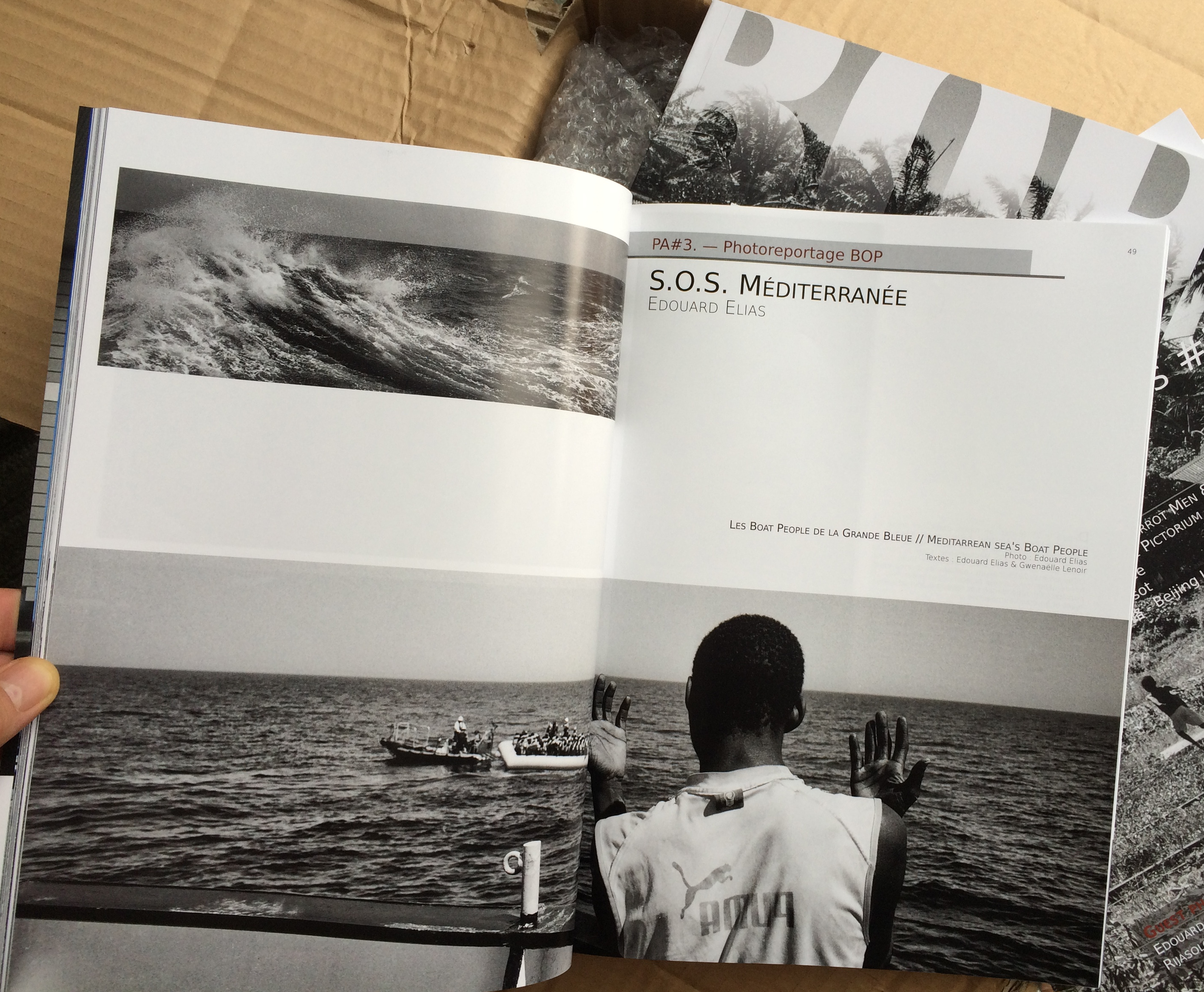 S.O.S. Méditerranée – Edouard Elias
About Photo Analogies
Photo analogies is a magazine dedicated to analog photography. This a yearly publication featuring photographic essays, stories and series of selected photographers, either members of the bop collective or guests. We also encourage artistic collaborations with writers.

First issue was released early 2013 and second at the end of 2014. [ Read more ]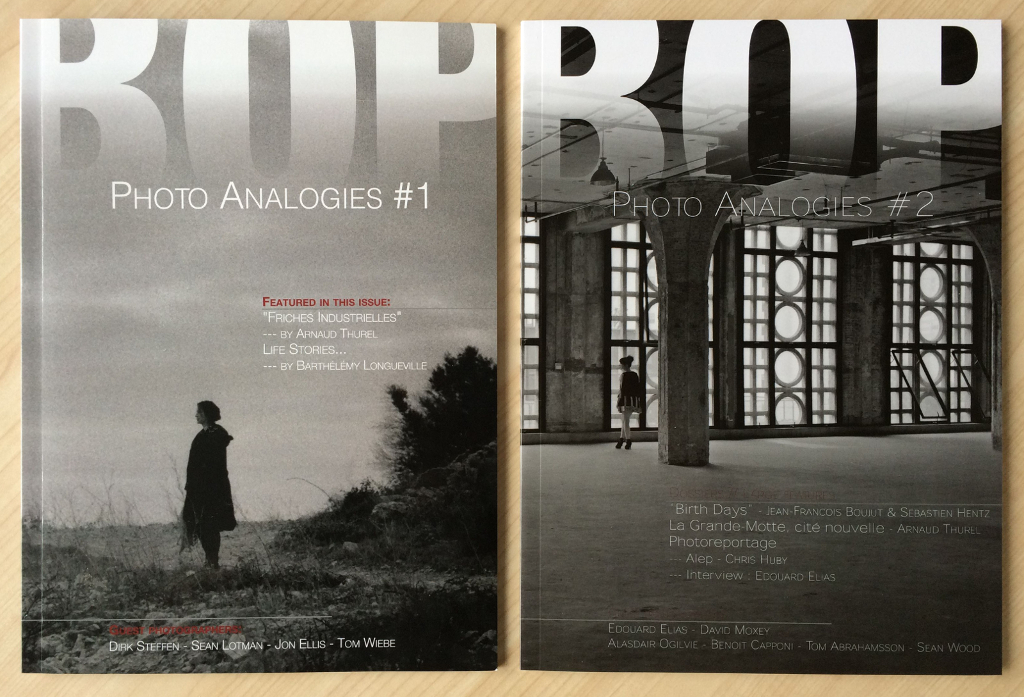 How to buy Photo Analogies ?
or use one of the alternative method bellow :

by email : photo_analogies@bop-photolab.org

by mail (old school):
Write to BOP, 37 lot. champ du Bourg, 38570 Goncelin, FRANCE with you check and address for delivery

Bookstores / Librairies (France + Belgium)
– Librairie Le Square, 2 Place du Docteur Léon Martin, 38000 Grenoble – (Website)
– Librairie Decitre Grenoble, 9-11 Grande Rue, 38000 Grenoble – (Website)
– Librairie du Grésivaudan, Centre Hermès, Rue des Sources, 38920 Crolles – (Website)
– Librairie O'merveilles, 5 Rue Bayard, Grenoble – 04 76 24 77 82 (Website)
– Studio Baxton, 29 Place de la Vieille Halle aux Blés, Bruxelles – +32 2 513 22 24 (Website)
– Hors Format, the photography bookshop – Chaussée d'Alsembergsesteenweg, 142, 1060 Bruxelles – +32 2 534 33 54 (Website)

Bookstores / Librairies (Canada)
– Beau Photography, 1520 W 6th Avenue, Vancouver BC (Website)
– The Lab Vancouveri, 295 E 2nd Avenue, Vancouver BC (Website)

Distribution points (France / China)
– We have other distribution points in Paris / Shanghai / Beijing, contact us for details
---